Making and Saving Bacon Grease
I usually buy a bulk bacon package of the ends and pieces that don't get sliced up right. Then I snip away at it with my trusty kitchen shears to get bits and small pieces, if I need some crumbled bacon for a recipe.
When I am in the mood to cook bacon or when my bacon pot gets hungry, I toss all the bacon in the crockpot. I turn it on high and let it cook away.
I do not remember how long I let this cook, but I usually end up over cooking the ends and pieces. I really think I let it cook on high for a good 4 hours or more. I really doubt that it should take that long. But I kind of forgot to check it, because every time I checked it I had to taste it, and I was getting sick from the 'too much grease' in my tummy.
I haven't lost any or at least very little from my not keeping an eye on the frying process, thank heavens. I really must be more diligent in the kitchen! The grease still comes out perfect too.
I was just thinking that if the bacon cooks in the oven, there would probably be grease spatters all over. In the crockpot, the spatters get caught by the lid. So this is my preferred method of cooking bacon for the grease. I am not sure how slices would come out, but it is worth the experimentation to find out.
Next time I cook my ends and pieces, I will stir it at least once to break up my bacon. Last time I did not do this and I had a huge lump of bacon- it looked like an fried pork roast. I don't remember having this problem before, so it is either I watch my bacon better or selective forgetfulness. The bacon still tasted great though. I will be watching it more closely so that I can remove the bacon when the grease is cooked out.
After the bacon is removed from the pot, I set the pot on a cooling rack and let it sit overnight or until the grease turns white and thick. Then I use a rubber scrapper to move the grease into my pot(s). I keep a bacon grease pot in my travel trailer too. I usually let the grease cool down in the pot, because I usually spill when I try to pour the liquid grease from my crock pot. Plus you can get the crock pot really clean with a rubber scrapper when the grease is cooled down. That way there is less that might get into your drain pipes. So your drain pipes and your oven stay clean!!
I also don't mind getting the small well cooked bits that gather on the bottom of the crock in my grease pot. If I am making a gravy, that adds great flavor. Although, I think next time I will ladle out the clear grease into my bacon grease keeper and then let the bottom leftover firm up. Then I will move this stuff to a bottle in my fridge and use it for white sauce and gravies.
Above Left: Bacon grease pot w/Silicone Brush
Above Right: Butter pot with Silicone Brush
I keep the grease in a little pot near my stove with a silicone brush for greasing my pans when I cook. It might be better in a cupboard, less dust would want to settle there. But I now have a cute(?) 70's pot with a lid. However, I do keep my silicone brush in there most of the time and so the lid does not fit tight. But it is working for me.
A sugar pot would work the best, I think they have a hole cut in for the spoon. Or maybe a jam or jelly pot. But I have not run across one of them at the thrift store yet. I am keeping my eye open for one. I figure when I find one, then the current pot I am using will return to the Thrift Store to be loved by someone else.
I really don't know how good/healthy bacon grease is for us to use. However, I do know that it costs a lot less (free by product) than buying oils, pam or using butter- my next preferred method. I also cook mostly with cast iron, stoneware and crock pots (both in the crockpot base and in the oven) and bacon grease has never let me down.
......Waste not, want not, I'll let the bacon grease go to my waist........
(besides it tastes great!)

Above: Left-Bacon grease with lid and brush, Top-butter dish with brush,
Mini Tea pot soon to be bacon grease holder
and bottom is my extra bacon grease pot with lid for the trailer.
~~~~~~~~~~~~~~~~
This is my new (thrift store find) soon to be bacon pot! I think it is so cute. I could still change my mind and put butter in here and then I could nuke (microwave) the butter if I needed melted butter and pour it out. I have been musing this over. It is a fight though, will the winner be bacon grease or butter? You may never know...............
~~~~~~~~~~~~~~~~~~
This is my $1.50 crock, no scratches, chips, stains or marks- thrift store find. I got the lid for $.25 and even though they weren't made for each other, they are getting along very well. It is either a 2 or 3 quart pot, I haven't measured it yet.
~~~~~~~~~~~~~

How about this lovely $2.00 thrift find? It also bakes wonderfully and released
smoothly with bacon grease! It also works as a relish tray with carrot
and celery sticks, baby pickles, olives, dips, etc.
~~~~~~~~~~~~~~~~~~~~~

I should have taken photos of these two crockery bread pans together. The one on the left is a quick bread size, just smaller than a regular bread loaf. The one on the right is a mini loaf. In fact I am not sure if it truly is a bread pan, but that is what I am using it for.
The larger pan was not a Thrift Store find, but it was only $4.00- not too bad for a good non-stick bread pan. Again, non-stick using bacon grease. The mini pan was a $.75 Thrift store find and I have 3 or 4 others, they are also Christmas but of the Snowman theme.
I am quite sure that my bread won't mind if it is being baked in a Christmas decorated pan. And I am quite happy to get a hint of Christmas all year round!
~~~~~~~~~~~~~~

My final photo is of my new favorite round bread crockery pan. It was $4.00 too or maybe it was the $3.75 one, I can't remember. But the banana bread I baked in it was awesome and I loved the round shape. It is about a quart and a half in size. Small but perfect, again non-stick for me with my bacon grease.
I loved using it and will enjoy it for years to come. Barring any dropping or quick temperature changes! I plan on really teaching my kids well on how to care for these wonderful pans/crocks.

~~~~~~~~~~~~~~~~~~~~~~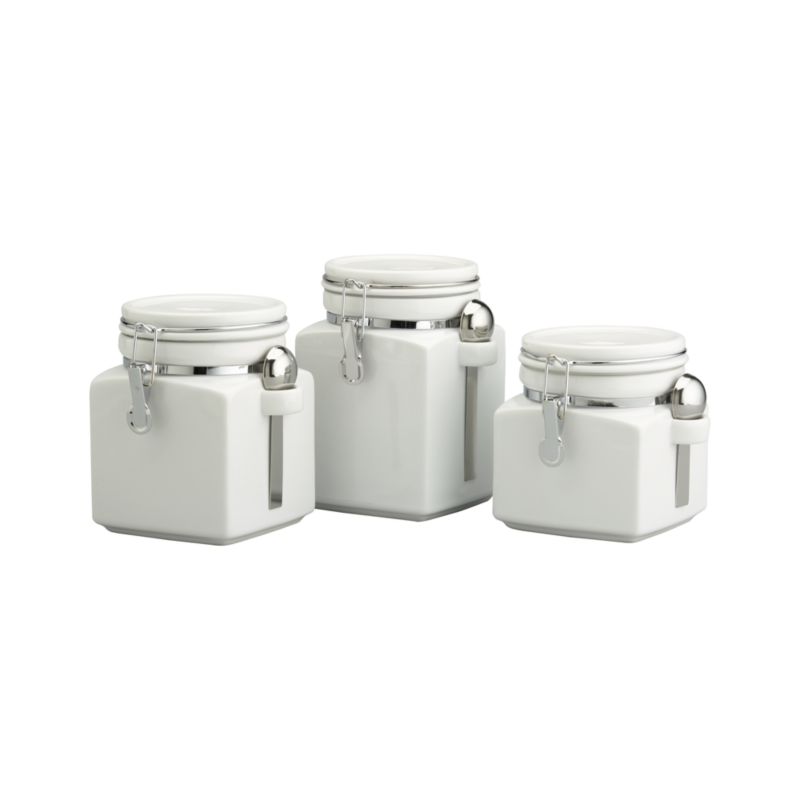 OHHHHH!! I might have a small canister crock with the hinged lid and spoon holder on its side. (The photo is of a square set, but mine is round.) If I do, that might be my answer to keeping the lid on the grease and the brush with the pot. But now that I type, I think the spoon holder wouldn't be big enough. But maybe it is, I will have to go find it and see. (it's in my use for Christmas presents box) The next thing would be a plastic cover for the brush end- that shouldn't be too tough. A small ziplock or such sleeve- made easily the correct size with a bag sealer............
~~~~~~~~~~~~~~~~~~~
Shared on Works for Me Wednesday.
~~~~~~~~~~~~~~~~~~~~~~~~~~~~~
Check out my other posts for these meme's: